Raidió Corca Baiscinn is a wholly community owned and run radio station based in West Clare.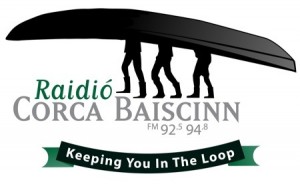 We broadcast on 92.5 & 94.8FM to the whole region of West Clare from Labasheeda, through Kilmihil to Quilty and all points West to Loop Head, and to the rest of the world online.Our programming is as diverse as our volunteer base and includes debate, farming, historical documentaries, sports, radio drama, soundscape and a wide range of music shows from trad to hip hop, 90% of which are volunteer produced and presented.

We also work with physical and mental disability groups and welcome contributions and participation from all in our community. For more information or to get involved see Volunteer section or call (+353) 065 9083022 info@rcb.ie
Kilkee, Ireland

14°C

few clouds
mon

08/29
tue

08/30
wed

08/31
thu

09/01
fri

09/02
VOLUNTEER ROLES AVAILABLE AT RCB RADIO
Are you the next Joe Duffy or budding Miriam O'Callaghan…?
Award winning radio station RCB are recruiting volunteers for the following roles; presenters, production,technical, news reading, desk drivers and fundraising. No experience is necessary as full training will be given. More Information
The Kilkee Civic Trust Presents
Kilkee Civic Trust & Kilkee Chamber of Commerce have invited Ennis Brass Band to perform in Kilkee on Sunday 28th August. The Band will play during 11am Mass and then entertain us while marching, via O'Curry St., to the Bandstand, where the concert will continue.
Posted By:
Admin
August 25, 2016
Join the Brothers of Charity crew every week to bring you the definitive guide to What's On at the weekend. Donie Dillon has all the latest news on gigs in west Clare, and Marty's Morrissey's idol John O'Boyle previews the weekend sporting action. Patricia O'Dea has all the news from across west Clare, and Antonio …More Content
The West Coast Rock Show is a new show on RCB playing some of the latest and hottest new and classic rock bands. Presented and produced by Mike Curran, the show brings together old and new rock tracks and aims to give information on the rock music scene in the West of Ireland. The show …More Content
Presented on alternate weeks, the Enable gang bring you the very best music mix. Pat Lynch, Johnny Browne, Chimy Browne and Ger Arthur play everything from Luke Kelly to Britney. Listen back page – http://rcb.ie/enableirelandmusicshow/
RCB Radio's 'West Clare Classical Music Hour' with Janet Dixon.I will be bringing you the programme every Wednesday afternoon from 4pm to 5pm. The programmes will consist of a wide selection of classical composers like Johann Strauss to Mozart and a wide range of Classical Opera pieces from Aida to the Pirates of Penzance and …More Content
He was there the first time 39 years ago and pathfinder General – Dermot Hayes returns to the Ennis Fleadh to meet some of the performers and visitors from far and wide to one of the biggest events in Clare for years.
Posted By:
Admin
August 24, 2016
Michael O'Connell brings you the latest news and events from every parish in south west Clare, and discusses the latest social and political issues. Always present at the biggest events in west Clare, Michael brings you all the latest goings on every Tuesday evening from 6pm. To contact the programme see the listen back page …More Content
From the 4 corners of Clare. Full of colour, life, fun, human stories of conquests, and achievements. From all walks of life in Clare. Dermot brings a unique inside to people activities and life in Clare. Not afraid to challenge the norms, asks the hard question and bring humour to the story. Dermot covers stories …More Content
After the madness of Midweek Remedy, what better way to unwind than to join the brilliant Pauline Skehan and friends for poetry, chat and song. An accomplished poet, Pauline is joined weekly by various friends to make for an enjoyable half hour show. Listen back to Paulines Poems at http://rcb.ie/paulinespoems
Posted By:
Admin
August 23, 2016
An Internship Vacancy exists for a Radio Producer and Assistant Programme Director Closing Date : 22/09/2016 Description: The intern will gain practical experience in documentary production, editing, recording, scripting, news and OB work in a community radio station. The intern will receive formal/informal training in the following: Adobe Audition, sound desk operating, recording interviews. In-house …More Content
On this evenings RCB Sports Show we will review Second round of Clare Senior Hurling Championship & preview Football Championship games this coming weekend, Alan Copley PRO Clare Ladies Football will tell us about their great victory in All-Ireland ¼ Final, Robert Clancy will give us the local Clare Soccer results, we hear about sports …More Content