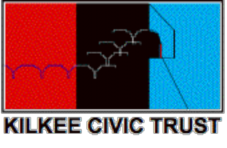 Kilkee Civic Trust is a non-profit organisation working to enhance the quality of life in Kilkee, and its hinterland, by preserving and promoting its cultural heritage, and so making it a more attractive place to live, work and invest.
KCT Talks 2017 – All Talks are hosted at Cultúrlann Sweeney, O'Connell St., Kilkee, starting at 8pm each Wednesday until the end of August.
Each talk is recorded and transmitted on Monday afternoons at 4:05pm on FM and internet Live Stream
Entry to all KCT Talks is Free of Charge.
All of our speakers give of their time and energy on a pro-bono basis.
The appreciation of the audience & KCT is expressed by way of presenting each speaker with a Book Token at the end of each Talk.
A Donations Box is provided at all Talks to assist us in defraying necessary expenses.